MarShon Brooks and Kent Bazemore joined the Lakers on February 19th in a trade sending long-time back up point guard, Steve Blake, the the Golden State Warriors. Like his counterpart, MarShon Brooks was given a shot at a 23-game try-out for the Lakers and anyone else willing to watch. Unlike Bazemore, MarShon did not cement his future as a legitimate contributor with the team, nonetheless the NBA.
Brooks played 10 games for the Celtics, averaging 7 minutes per game in 2014. He played 7 games for the Warriors, averaging 2 minutes per game. With the Lakers, Brooks averaged 12 minutes a game for 18 games, although at some points it was because he was the only man left on the bench. What did MarShon Brooks do with his opportunities exactly?
Well, he put up a respectable 6.4 PPG average and an even more respectable 49% field goal percentage. But as we've seen in the past for MarShon Brooks, his efficiency wanes as he gets more time on the court and he falls back down to Earth, leaving fans and coaches wanting more.
Brooks has the potential to be a big time scorer in the NBA. He is a 6'5″ shooting guard with an absolutely ridiculous 7'1″ wingspan. He is great at getting to the basket and can do it with a multitude of moves. He has a good first step and surprising strength to finish with his back to the basket or through a big. In 2011-12, Brooks shot 58.9 percent in the restricted area. Brooks even has a 38+ inch vertical to help him finish at the rim. He has an aggressive scorer's mentality that Kobe would be proud of and most importantly, the ability to create his own shot anywhere on the floor.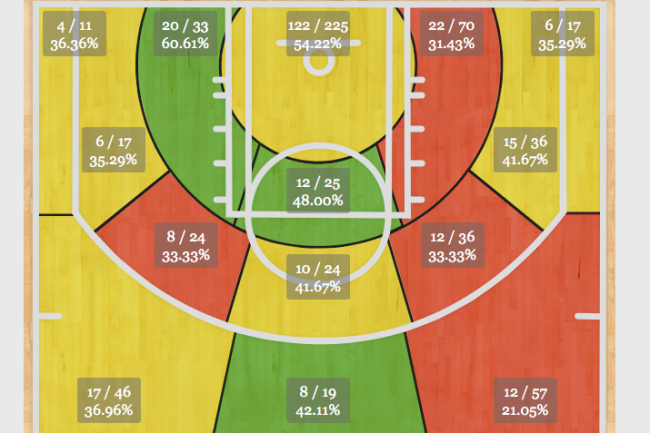 Courtesy of NBA.com.
But, if there is one word that could plague Brooks throughout his career, it is defense. Remind you of anyone so far? To me, Brooks is almost a carbon copy of Nick Young. Young is a better outside shooter, but what Brooks lacks in that department, he makes up in his ability to get to the rack. Young was plagued early in his career by his lack of effort on defense and his general lack of concern for anything that was going on outside of his shooting line. MarShon Brooks showed a similar apathy with his 1.6 RPG and 1.1 APG for the Lakers compared to his 5 attempted shots per game. Not to say that is the reason Brooks can't seem to crack the rotation of any of the 4 teams he has been on since being drafted in 2011, but that's basically what I'm saying. Thats is what Avery Johnson told the world in The Association as well: (Johnson pointing at defensive game tape) "Right here with Marshon is? This is what we don't want to do." Ouch.
Like Young, Brooks has great potential. And like Young, he has an offensive ability and fluidity that makes you stare in awe at how easy he can make the game look, and simultaneously rip your hair out as he lets up an easy dunk. But, like Young, his potential just seems like to much to give up on because he hasn't learned how to play defense yet. The Clippers and Sixers gave up on Nick Young the past couple years, and look at how much he improved.
What Brooks needs is a coach to teach him the finer points of defensive theory. (insert subtle D'Antoni jab here) It's not like he needs to become a lock-down defender. Not in the least. But, enough defensive competence to warrant 15-20 points a game? I think he could do that. Especially if Nick Young decides to bolt for greener pastures, keeping MarShon Brooks around and hoping he can develop into more than a one-dimensional scorer is a low-risk high-reward proposition.
MarShon Brooks was exactly who we though he was, but he has a lot of room for improvement. His best game as a Laker came in a shootout with the Kings in LA. He has 23 points on 9/12 shooting with 3 turnovers and 4 assists. He followed that game with an 8-point game in Portland on 1/9 shooting and a spot on the end of the bench basically for the rest of the year.
Brooks is still just 25 years old, but only a 3-year NBA veteran after playing all four years in Providence. He has a long way to come as an NBA player, but the offensive potential just screams Nick Young 2.0 in my ear. Likely at less than a fraction of the cost to retain Young, Brooks is a great option and showed me enough of his ability to make me want more.
Loading ...